Certified Family Medical Leave Specialist - CFMLS

REGISTRATION FEE: $995
LEARN STRATEGIES TO SUCCESSFULLY MANAGE THE FMLA AND MINIMIZE ABUSE
While most employees do not abuse the FMLA, those who do can cause scheduling challenges, lost productivity, and damage to employee morale.
Earn your Family Medical Leave Specialist Certification from Michigan State University, one of the most recognized programs in Human Resources advanced education. You will gain a solid understanding of the FMLA, learn to manage FMLA absences, promote attendance, and ensure compliance.
The FMLA can be confusing. Obtain the most up-to-date information, get your questions answered, and develop strategies for continued improvement.
KNOWLEDGE AND SKILLS GAINED
Learn about new Coronavirus-related requirements under the Families First Coronavirus Response Act (FFCRA), including the Emergency FMLA and the Emergency Paid Sick Leave Act
Maximize attendance
Minimize abuse of the FMLA
Comply with the law and new regulations
Integrate management of the FMLA, ADA, Workers' Compensation, and your short-term disability programs
Make an informed, data-driven decision about how best to administer the FMLA in your organization
Treat medical absences as a strategic imperative
This workshop will include a dedicated website with additional, valuable resources.
Certification is achieved by participating in the class and passing the online examination.
PROGRAM DATE
March 10, 2021
8:30am - 4:30pm ET
Live Interactive Program via Zoom
REGISTRATION FEE: $995
INSTRUCTOR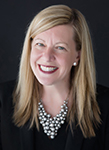 Kristine Moore, JD, is Assistant General Counsel at Michigan State University, where she practices primarily in the areas of Clery and Violence Against Women Act compliance, disability law, Fair Labor Standards Act and other employment law issues. Kristine is a frequent speaker in the area of employment law. Prior to joining the Office of General Counsel in 2014, Kristine served as Assistant Director for Institutional Equity in MSU's Office for Inclusion. Prior to that, Kristine was a partner at the Dickinson Wright law firm in Lansing, MI, where she practiced labor and employment law.
CANCELLATION POLICY
FOR VIRTUAL (ZOOM) PROGRAMS

Cancellation more than three weeks prior to the program start date: full refund.
Cancellation two weeks prior to the program start date: 10% cancellation fee; remainder of program fee refunded.
Cancellation after program materials have been posted/provided to participants (normally 2 days prior to program start date): no refund.
Cancellation fees may be waived if the participant registers and attends the same program within 12 months. Fees may only be waived once.
FOR IN-PERSON PROGRAMS

Cancellation four weeks prior to program start: 10% cancellation fee; remainder of program fee refunded.
Cancellation less than four weeks but at least two weeks prior to program start: 50% cancellation fee.
Cancellation less than two weeks prior to program start: no refund.
These cancellation fees apply even if the participant wishes to reschedule to a later date for the same program or a different program. Participants may send a substitute from the same organization for the same program and date with prior written notice and avoid the cancellation fee.
MSU reserves the right to cancel programs when enrollment criteria are not met or for conditions beyond its control. Any additional costs incurred by the enrollee of canceled programs are the responsibility of the enrollee.
ADDITIONAL INFORMATION
MSU's Federal ID Number is 38-6005984
Business casual attire.
Please, no audio or video recording.
REGISTRATION FEE INCLUDES
All course materials.
Program begins at 8:30am.
Space is limited, so we advise registering as soon as possible to secure your participation.
GIVE US A CALL
We would be happy to answer any questions you may have regarding this training program. Please contact Program Coordinator, Kristi White at whitekr@msu.edu.
DID YOU KNOW...WE CAN COME TO YOU!
You can bring this program on-site for your team or virtually through Zoom. It will lay the groundwork for success, provide a common framework and language as well as incorporate your organizational challenges. Contact Program Coordinator, Kristi White at whitekr@msu.edu to discuss how you can multiply the benefits of MSU programs and save money by bringing this and other programs to you.