FMLA Short Course Series

REGISTRATION FEE: $200/session
DESCRIPTION
Stay up-to-date with the Family and Medical Leave Act by joining us for our popular series designed to make the most of your time. These 90-minute interactive Zoom sessions focus on different aspects of the FMLA to give you the focused information you need to succeed.
SAMPLE SCHEDULE
FMLA: Complex Issues
Description: Just when you think you know how to administer the FMLA, an issue arises that leaves you stumped. From leaves based on stress to delaying the start of FMLA leave based on labor contract language, some issues are complex and require a structured analysis to ensure compliance.
Attend this session to learn how to analyze complex FMLA issues and gain insight into situations faced by you and others.
Instructor: Kristine Moore, JD
Registration fee: $200
FMLA: Employee Leaves
Description: Between FMLA, short term disability, paid time off, and workers' compensation, understanding the intersection between various types of leaves is critical.
Attend this session to learn how the various leaves interact and strategies for managing employee leaves.
Instructor: Kristine Moore, JD
Registration fee: $200
FMLA: Updates
Description: Staying on top of changes to the FMLA is critical to ensure organizational compliance and avoid costly litigation. Reading court cases and DOL opinion letters can be confusing and time consuming.
Attend this session to gain important updates in a clear and concise manner so that you can put the information to use in your organization.
Instructor: Kristine Moore, JD
Registration fee: $200
ADDITIONAL FMLA PROGRAMS
Gain the confidence to effectively manage the Family & Medical Leave Act
INSTRUCTOR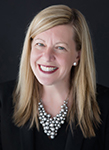 Kristine Moore, JD, is Associate General Counsel at Michigan State University where she practices primarily in the area of employment law, including wage and hour, leaves of absence, discrimination, employee discipline, and other employment law issues. Kristine also advises on Americans with Disabilities Act matters. She is a frequent speaker in the area of employment law.
Prior to joining the Office of the General Counsel in 2014, Kristine served as Assistant Director for Institutional Equity in MSU'''s Office for Inclusion. Prior to that, Kristine was a partner at a large law firm in Michigan where she practiced labor and employment law. Kristine received her B.A. from the University of Wisconsin, Madison, and her law degree cum laude from the Chicago-Kent College of Law.
One or more instructors listed above will be teaching
REGISTRATION POLICY
Registration closes 2 business days before the start of the program.
CANCELLATION POLICY
FOR VIRTUAL (ZOOM) PROGRAMS

Cancellation more than three weeks prior to the program start date: full refund.
Cancellation two weeks prior to the program start date: 10% cancellation fee; remainder of program fee refunded.
Cancellation after program materials have been posted/provided to participants (normally 2 days prior to program start date): no refund.
Cancellation fees may be waived if the participant registers and attends the same program within 12 months. Fees may only be waived once.
MSU reserves the right to cancel programs when enrollment criteria are not met or for conditions beyond its control. Any additional costs incurred by the enrollee of canceled programs are the responsibility of the enrollee.
ADDITIONAL INFORMATION
MSU's Federal ID Number is 38-6005984
Business casual attire.
Please, no audio or video recording.
REGISTRATION FEE INCLUDES
All course materials.
Space is limited, so we advise registering as soon as possible to secure your participation.
DID YOU KNOW...WE CAN COME TO YOU!
You can bring this program on-site for your team or virtually through Zoom. It will lay the groundwork for success, provide a common framework and language as well as incorporate your organizational challenges. Contact Program Coordinator, Kristi White at whitekr@msu.edu to discuss how you can multiply the benefits of MSU programs and save money by bringing this and other programs to you.
Questions? We would be happy to answer any questions you may have regarding this or any of our training programs. Please contact Program Coordinator, Kristi White at whitekr@msu.edu.