HRLR welcomes Dr. Tara S. Behrend, John Richard Butler II Endowed Professor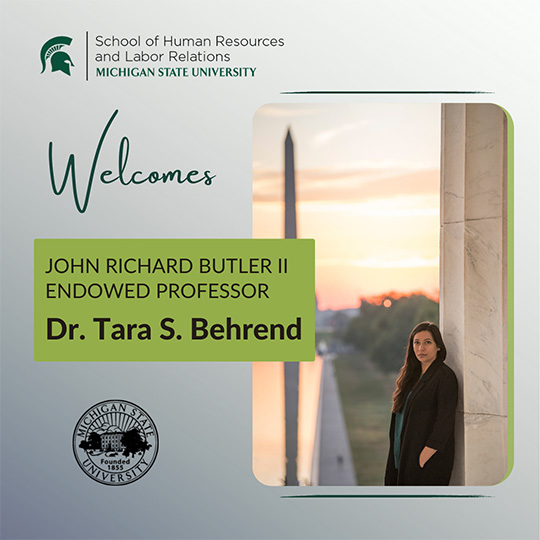 The School of Human Resources and Labor Relations at Michigan State University is pleased to welcome Dr. Tara S. Behrend, John Richard Butler II Endowed Professor, to our faculty in August 2023. Dr. Behrend is joining us from the Purdue University Department of Psychology. She brings with her an impressive record of scholarly achievements, research, and leadership in the field of industrial and organizational psychology and beyond.
Originally from Buffalo, New York, Dr. Behrend earned her Ph.D. from North Carolina State University. She has written three books, including Workforce Readiness and The Future of Work (2019), Technology and Measurement Around the Globe (2023), and The Future of Human-Technology Partnerships at Work (2024).
Tara's previous leadership roles include Program Director for the National Science Foundation, where she chaired the Future of Work working group and oversaw the Science of Organizations program. She is a former Fellow at the Center for Advanced Study in the Behavioral Sciences at Stanford University. Dr. Behrend was recently elected as a board member for the National Academies Board on Human-Systems Integration and currently serves as the President of the Society for Industrial and Organizational Psychology (SIOP).
Her research group, the Workplaces and Virtual Environments Lab, focuses on workplace technologies and their ethical, social, and psychological implications. She is a recognized expert in the areas of electronic surveillance and human-AI interactions, speaking regularly with policy makers and other audiences worldwide. Her work is multidisciplinary and has been published in psychology, education, and technology journals.
School of HRLR alumnus John D. Butler shares that "Dr. Behrend's appointment is a testament to the excellent choice made by the School of Human Resources and Labor Relations, the College of Social Science, and Michigan State University. As Spartans, my wife, Susan and I are very proud and honored by Dr. Behrend's appointment to the John Richard Butler II Professorship."
Please join us in welcoming Dr. Tara Behrend to the Michigan State University School of Human Resources and Labor Relations. Her research and leadership will be a valuable addition to our community, and we look forward to her contributions in the years to come.