SHRLR Hosts "DEI at Work" Panels To Discuss Workplace Experiences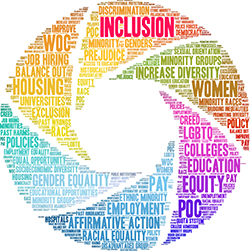 The School of HRLR's Diversity, Equity, and Inclusion (DEI) committee recently hosted two "DEI at Work" panels with the goal to help attendees learn from panelists and their unique workplace experiences. Panelists shared their diverse backgrounds and powerful stories of challenges they have faced because of their race, gender, sexual orientation, or disability in the workplace. They also shared proactive ideas for how workplaces can be more inclusive.
Here are three powerful takeaways from HRLR's "Diversity, Equity, and Inclusion at Work" panelists:
IDENTITY MATTERS
Being a person of color, my skin tone is something I think about frequently. I am often the only Black female in a room and that used to be intimidating, but it's something I grew more comfortable with. I worked hard to earn my seat at the table.

- Tiffany Jones, MHRLR alum and Lead HR Business Partner, L3Harris Technologies
There is this misconception that LGBTQ+ people come out once and never again. Many of us come out every day, every time we meet a new coworker or work on a new team.

- John Stuedle, MHRLR candidate
Being Latino in the workplace, it is about bringing my whole self to work and the sum of my experiences that make me who I am - I don't encounter a lot of people like me in HR or other leadership levels.

- Antonio Guerra, MHRLR alum and Senior HR Business Partner, Pepsico
Amidst the most recent cases of violent hate crimes against Asian Americans, and #StopAsianHate trending on social media, I have been able to do a lot of thinking about how much "Model minority" rhetoric has harmed my own self-esteem and had a negative impact on my community.

- Erin Chon, MHRLR Candidate and HR Coordinator Intern at PuppetART Theater
HOW EMPLOYERS CAN HELP EMPLOYEES
Having to ask for special treatment just to be your best self feels as if the organization doesn't care about my experiences ... they don't see the whole person. (re: asking for accommodations related to hearing impairment) ... Employers can do better by alleviating the need to ask for accommodations. Leaders should ask 'what can I do so that you can be the best person on the job.'

- James Hensley, MHRLR alum and HR Generalist - People Strategy at Boeing
Organizations can infuse the culture and work processes with radical inclusion and think about how we can be broadly inclusive. As an organization we might ask everyone 'what is it that you need to excel at your job?'

- Stephanie Nawyn, Associate Professor of Sociology at MSU and Co-Director at the Center for Gender in Global Context (GenCen)
HOW TO CREATE AN INCLUSIVE WORK ENVIRONMENT
While I think it is important to have the leadership talking about DEI, I like to see a diverse leadership team.

- SooJin Song, MHRLR Candidate and HR Project Management Intern at Michigan Nonprofit Association
An organization's transparency is very important: sharing where they are at, even if they are just at this realization point; where are they at in their journey, what are their numbers, do they recruit from HBCUs, do they look at skilled trades programs, etc.

- Antonio Guerra, MHRLR alum and Senior HR Business Partner, Pepsico
We have our CEO and other executives on zoom, leading DEI conversations. This is very helpful and creates a workforce that respects each other.

- Tiffany Jones, MHRLR alum and Lead HR Business Partner, L3Harris Technologies
[building on the results from our engagement surveys] we did focus groups to understand what women and minorities were experiencing and what we can change; employee voice is very important, listening to the employees rather than HR just doing it; it is important to have your employees' confidence so they can drive the change; this is not possible, however, if the leadership team is not inclusive.

- Tiffany Jones, MHRLR alum and Lead HR Business Partner, L3Harris Technologies
The School of HRLR thanks the panelists for sharing their stories and insights. Identity clearly matters. And importantly, a diverse leadership that is transparent in its processes, communicates (also) on DEI matters, and listens to their underrepresented employees are considered important steps towards creating a more inclusive work environment.
If you have any comments or questions with regards to the work our School does on DEI, please email Maite Tapia at tapiam@msu.edu.