Organizational Development and Planned Change

REGISTRATION FEE: $2,995
CHANGE BOTH PERSONAL AND ORGANIZATIONAL IS INEVITABLE
This course is designed to provide you with practical knowledge and experience in helping people (including themselves!) in organizations to manage planned change and to react successfully to unplanned changes and their consequences.
The nature of planned change is examined in the context of different organizational conditions and different levels of analysis - with special attention paid to the implementation of change in unionized organizations.
The stages of planned change are explored - from initial entry to intervention evaluation.
You will gain conceptual understanding of planned change as well as develop skills for helping to facilitate and manage change.
As this course is highly interactive and applied, class participation is critical. You will be expected to contribute to class discussions, experiential exercises and team projects.
LASTING CHANGE TAKES SIGNIFICANT TIME AND A GREAT DEAL OF ORGANIZATIONAL AND PERSONAL INVESTMENT
Change occurs in many forms, from minor transitions to major transformations and upheavals. Effectively managing change involves different activities depending on the scope of change and the organization's readiness for it. Special attention will be given to managing disruptions caused by environmental shifts and the inevitable losses and gains that radical change can bring.
The "operating rules" within most industries have seen significant changes over the past decades. The driving forces behind these changes have come from many different sources: advances in technology, globalization and the increased competition it has created, changing government regulations, the creation of new business models, mergers and acquisitions, changing workforce demographics and expectations, and evolving funding models.
The inability to adapt to these changes most often can lead to organizational decline. To enable personal and organizational survival and success, understanding how to plan, manage, implement and evaluate change are necessary concepts which are core to this program.
All organizational change requires personal change for each individual involved - and we know how difficult personal change can be. Organizational change programs that appear quick, easy and painless are generally deceptive and may present the veneer of change without the occurrence of underlying, lasting change.
Planned organizational change is defined as a set of activities designed to change individuals, groups and organizational processes, systems and structures. Managers and other workplace leaders are in ideal positions to anticipate, influence and generate change, as well as help other stakeholders manage both planned and unplanned change. The work is challenging, fast-paced and multi-dimensional.
OD & Planned Change develops your understanding of change processes and provides practical knowledge and skills for leading and thriving amidst change. Participants will come away from the program with an appreciation of the role of both external and internal change agents within organizations along with a working knowledge of how and why to use various organizational change tools in a wide range of contexts.
PROGRAM OBJECTIVES
By the end of this program, you will be able to:
Demonstrate skills in recognizing and optimizing change opportunities in organizations.

Explain how organizational change is achieved and the processes through which planned change may be accomplished.

Assess the personal and organizational capabilities necessary to navigate change.
This program is designed for organizational leaders in all sectors and industries as well as human resource professionals in both business partner and specialist roles.
This is a self-paced online program that will meeting weekly for 90-minutes via Zoom.
LEARNING OBJECTIVES
You may participate in this program in one of two ways, depending on your educational and career goals.
PROFESSIONAL DEVELOPMENT

This option is the most common, and includes your participating in all program sessions. You will receive a certificate of completion at the end of the program.

LIFELONG EDUCATION

If you wish to earn academic credit, and are not currently enrolled in an academic program at Michigan State University, you may do so via Lifelong Education. You will receive academic credit, at either the graduate or undergraduate level, based upon your specific situation. In addition to participating in the program, this option requires completion of a written assignment and successful completion of a final examination.

To learn more and apply for Lifelong Education, visit https://reg.msu.edu/ROInfo/EnrReg/LifelongEducation.aspx
PROGRAM DATES
September 8, 15, 22, 29, October 6, 13, 20, 2020
REGISTRATION FEE: $2,995
To join our waiting list, please contact Kristi White at whitekr@msu.edu
PROGRAM SCHEDULE
This is a 7 week self-paced online program that will meet weekly on Tuesdays for 90-minutes via Zoom.
INSTRUCTOR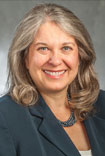 Tina M. Riley, PhD, is an Associate Professor and Associate Director of the School of Human Resources and Labor Relations at Michigan State University (MSU). She is the Director of the School's Human Resource Executive Education program and holds a PhD in Higher, Adult, and Lifelong Education as well as a Master of Arts in Labor Relations and Human Resources from MSU. Dr. Riley is a results-based educator and executive coach with expertise helping individual leaders and organizations, achieve their full potential through high-impact communications that build trust and promote inclusion and engagement.
She adopts an engaging and holistic approach to teaching that facilitates learners' ability to move from theory to practice. Her teaching style makes complex concepts accessible to graduate students and seasoned professionals alike. Dr. Riley teaches academic and professional development classes on a variety of HR and leadership topics including communications, leadership development, managing change, diversity and inclusion, conducting workplace investigations, and HR's role in cybersecurity.
CANCELLATION POLICY
Cancellation four weeks prior to program start 10% cancellation fee; remainder of program fee refunded.
Cancellation less than four weeks but at least two weeks prior to program start 50% cancellation fee.
Cancellation less than two weeks prior to program start: no refund.
These cancellation fees apply even if the participant wishes to reschedule to a later date for the same program or a different program. Participants may send a substitute from the same organization for the same program and date with prior written notice and avoid the cancellation fee.
MSU reserves the right to cancel programs when enrollment criteria are not met or for conditions beyond its control. Any additional costs incurred by the enrollee of canceled programs are the responsibility of the enrollee.
SPECIAL ACCOMMODATIONS
Accommodations for people with disabilities or special dietary needs may be requested by calling SHRLR Professional Development at (517) 355-9592. We will do all we can to accommodate you. It would be especially helpful if you would contact us at least three weeks before the program.
ADDITIONAL INFORMATION
MSU's Federal ID Number is 38-6005984
Business casual attire.
Please, no audio or video recording.
REGISTRATION FEE INCLUDES
All course materials.
Year-long access to a dedicated website containing a wealth of additional resources.
Certificate of completion.
DID YOU KNOW...WE CAN COME TO YOU!
You can bring this program on-site for your team or virtually through Zoom. It will lay the groundwork for success, provide a common framework and language as well as incorporate your organizational challenges. Contact Program Coordinator, Kristi White at whitekr@msu.edu to discuss how you can multiply the benefits of MSU programs and save money by bringing this and other programs to you.
CONTACT US
We would be happy to answer any questions you may have regarding this training program. At this time, we are currently working remotely. Please contact Program Coordinator, Kristi White at whitekr@msu.edu.