HR Analytics

REGISTRATION FEE: $995
UNDERSTANDING AND USING DATA IS THE FUTURE FOUNDATION OF MAKING IMPORTANT HR DECISIONS
Don't let "Big Data" scare you into not understanding the information you have to improve your organization's workforce performance. The need for HR professionals who know how to use data analytics to forecast and make vital decisions is a growing in today's workplace.
WHO SHOULD ATTEND?
HR Professionals
Those who want to take their career to the next level and get ahead of the curve
Anyone who is interested in data science and how big data can play a role in organizations
You will get hands-on practice and receive specific code to build your own tables in class so a laptop is required. Gain resources and skills you can immediately implement when you return to work.
KNOWLEDGE AND SKILLS GAINED
Take data you already have and turn it into decision-making reports without having to buy new software or use outside consultants
Provide essential insights to your company that can only come from data analytics
Understand your employees' age and experience allowing you to better predict when they are going to leave or retire
Develop a recruitment strategy based upon a thorough knowledge of your current talent and future talent needs
Train your current workforce to be ready for opportunities when they develop, creating a path of progression and increased retention
Position your HR department as a strategic partner, using hard data to help make important decisions
THANK YOU FOR YOUR INTEREST
We are currently redesigning this program to bring you the most relevant techniques to help you get the most out of your data.
If you would like to be notified when we reschedule this program, please contact Derek Moy at moy@msu.edu.
INSTRUCTORS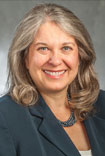 Tina M. Riley, PhD, is an Associate Professor and Associate Director of the School of Human Resources and Labor Relations at Michigan State University (MSU). She is the Director of the School's Human Resource Executive Education program and holds a PhD in Higher, Adult, and Lifelong Education as well as a Master of Arts in Labor Relations and Human Resources from MSU. Dr. Riley is a results-based educator and executive coach with expertise helping individual leaders and organizations, achieve their full potential through high-impact communications that build trust and promote inclusion and engagement.
She adopts an engaging and holistic approach to teaching that facilitates learners' ability to move from theory to practice. Her teaching style makes complex concepts accessible to graduate students and seasoned professionals alike. Dr. Riley teaches academic and professional development classes on a variety of HR and leadership topics including communications, leadership development, managing change, diversity and inclusion, conducting workplace investigations, and HR's role in cybersecurity.
One or more instructors listed above will be teaching
CANCELLATION POLICY
Cancellation four weeks prior to program start 10% cancellation fee; remainder of program fee refunded.
Cancellation less than four weeks but at least two weeks prior to program start 50% cancellation fee.
Cancellation less than two weeks prior to program start: no refund.
These cancellation fees apply even if the participant wishes to reschedule to a later date for the same program or a different program. Participants may send a substitute from the same organization for the same program and date with prior written notice and avoid the cancellation fee.
MSU reserves the right to cancel programs when enrollment criteria are not met or for conditions beyond its control. Any additional costs incurred by the enrollee of canceled programs are the responsibility of the enrollee.
SPECIAL ACCOMMODATIONS
Accommodations for people with disabilities or special dietary needs may be requested by calling SHRLR Professional Development at (517) 355-9592. We will do all we can to accommodate you. It would be especially helpful if you would contact us at least three weeks before the program.
ADDITIONAL INFORMATION
MSU's Federal ID Number is 38-6005984
Business casual attire.
Please, no audio or video recording.
REGISTRATION FEE INCLUDES
All course materials.
Continental breakfast and networking lunch are included each day.
Registration and Continental Breakfast at 8am; Program begins at 8:30am.
Travel and hotel expenses are not included.
Space is limited, so we advise registering as soon as possible to secure your participation.
GIVE US A CALL
We would be happy to answer any questions you may have regarding this training program. Please contact Program Coordinator, Kristi White at whitekr@msu.edu.
DID YOU KNOW...WE CAN COME TO YOU!
You can bring this program on-site for your team or virtually through Zoom. It will lay the groundwork for success, provide a common framework and language as well as incorporate your organizational challenges. Contact Program Coordinator, Kristi White at whitekr@msu.edu to discuss how you can multiply the benefits of MSU programs and save money by bringing this and other programs to you.