Julie L. Brockman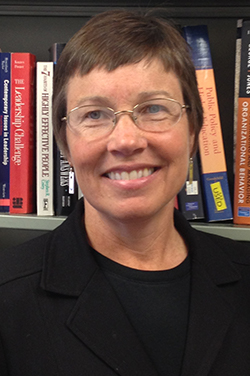 PhD, Michigan State University, Higher, Adult, and Lifelong Education
MHRLR, Michigan State University, Labor and Industrial Relations
M.A., The Ohio State University, Organizational Communication
B.A., The Ohio State University, Psychology
South Kedzie Hall
368 Farm Lane, Room S416
East Lansing, MI 48824
(517) 432-4772
LINKS
---
AREA OF EXPERTISE
Conflict resolution, workplace learning, negotiations, joint labor/management initiatives, workplace diversity issues, self-knowledge through work.
---
BIOSKETCH
Julie L. Brockman is an Associate Professor in the School of Human Resources and Labor Relations at Michigan State University. Julie is also a Fulbright Scholar who traveled to Hanoi, Vietnam in 2013, 2016 and 2018 to teach and conduct research on workplace conflict in non-pubic enterprises.
As an outreach instructor, Julie has conducted workshops at local, national and international levels for union organizations and their joint partners. As a consultant and facilitator, she assists unionized organizations, both within the private and public sectors, in developing and implementing joint union/management initiatives. Julie's primary research interests focus on the workplace as a location for adult learning and development, negotiation and conflict resolution, the process of joint union/management collaboration and professional development of adult educators. Prior to her work with the School of Human Resources and Labor Relations, Julie was employed by the Nestle' Chocolate and Confections facility in Fulton, NY ('86-'95) and the TRW, Inc. Aircrafts Components Group in Euclid, Ohio ('84-'86).
---